Serves 2
Prep time | 10 minutes
Cooking time | 15 minutes
• Baked Eggs are a great breakfast or brunch dish, especially in the colder winter months. Spice it up with hot chilli sauce if you like! (For a vegetarian dish simply omit the bacon – it's still delicious!)
Ingredients
• 2 rashers of bacon, cut in half
• 1 tablespoon olive oil
• 2 cloves garlic, chopped
• 1 brown onion, chopped
• 1 x 400g tin chopped tomatoes
• 1 teaspoon salt
• 1 ½ teaspoons sugar
• 2 tablespoons hot chilli sauce (optional)
• 4 eggs
• ½ cup fresh, finely grated parmesan
• 2 tablespoons chopped fresh parsley
• ground black pepper
 Method
1. In a medium fry pan over medium-high heat fry the bacon until all the fat has rendered out and it is crispy. Remove from the pan and set aside to cool. When cool, chop into small pieces.
2. Preheat oven to 180°C.
3. In a medium frying pan, heat oil over a medium heat.  Add garlic and onion and stir until soft and translucent.
4. Add the tomatoes, salt and sugar, and simmer for 10 minutes.  The sauce will thicken and the flavours intensify.
5. Divide the sauce between 2 shallow pie or gratin dishes.  Make a two little wells with a spoon and crack two eggs into the wells.  Spoon a little of the tomato sauce over the egg whites.   Sprinkle parmesan over the top.
6. Place the dishes into the oven and bake for 8-10 minutes or until the whites are set but the yolks still runny. Remove from the oven, sprinkle with bacon pieces and parsley and grind over some black pepper.
7. Serve with hot toast for dipping.  Delicious! (For a vegetarian dish, simply omit the bacon – it's still delicious!)
These pancakes are fluffy, easy to make, and a family favourite in our house! Makes 8 Preparation time: 10 minutes  Cooking time: 3 minutes per batch 1 cup (150 g)…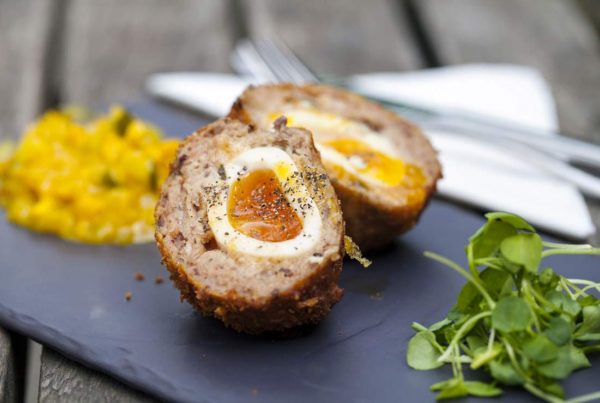 Makes 8 Prep time | 20 minutes Cooking time | 15 minutes • Scotch Eggs | After initially boiling the eggs remove them with a slotted spoon and put into a bowl of cold…
Serves 2 Prep & cooking time | 20 minutes • Eggs Benedict | This is my take on the ever popular 'Eggs Benny' - including the Hollondaise sauce. If you are using smoked salmon instead of…