Serves 12
Prep time | 20 minutes
Cooking time | 2 hours 20 minutes
Grandma was the queen of Christmas and reigned over it with happiness every year.  Her Christmas cake was legend among her family, friends and neighbours and continues to be made every year by her daughters and grand-daughters. Note: this recipe originally appeared in Our family table.
Ingredients
• 500g butter
• 500g sugar
• 500g plain flour
• 250g self raising flour
• 500g currants
• 250g raisins
• 60g mixed peel
• 8 eggs
• grated zest and juice of 1 lemon
• pinch of salt
• 200g glace cherries, roughly chopped
• 200g blanched almonds
• 1 tablespoon brandy
 Method
1. Preheat oven to 200°C (180°C fan-forced).   Grease a large cake tin and line with baking paper.
2. Cream butter and sugar until thick and pale.  Add eggs one at a time, beating after each addition.
3. Add lemon zest and juice, fruit, cherries and brandy.
4. Gently fold the flour through.
5. Spoon the mixture into the cake tin.
6. Arrange blanched almonds in a pattern on the top.
7. Bake for 10 minutes , then reduce the heat to 150°C (130°C fan-forced) and bake for a further 30 minutes.
8. Reduce the heat again to 120°C (100°C fan-forced) and cook for another 2 hours or until a skewer inserted comes out clean.
Note: this recipe originally appeared in Our family table.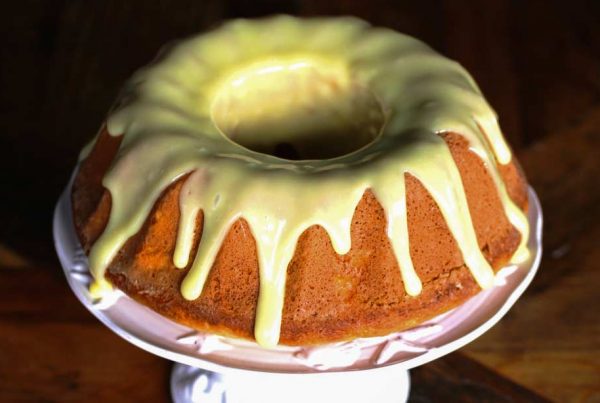 Serves 10 Prep time | 10 minutes Cooking time | 40 minutes • Apricot Sour Cream Cake | I like to make this in a bundt tin as it looks so pretty. If you cook…