Serves 6
Prep time | 10 minutes
Cooking time | 30 minutes
Ingredients
• 4 cobs corn, husk removed
• 1 tablespoon olive oil
• 4 rashers bacon, rind removed, cut into thin strips
• 1 brown onion, chopped
• 4 medium sebago potatoes (about 700g), peeled and diced into 1cm pieces
• 1 litre chicken stock
• ½ cup cream
• salt and finely ground white pepper
• 1 shallot (green onion) finely sliced
 Method
1. Cook corn in the microwave on high for six minutes, or until tender. Alternatively, boil in a pot of salted water until tender.  Using a sharp knife, remove the kernels.
2. Heat the oil in a large pot over medium-high heat, and sauté the bacon until light golden brown.  Remove from the pot.  Add the onion and sauté for 2 minutes or until starting to soften.  Add the potatoes, chicken stock and one cup of water and bring to the boil.  Boil for 10 minutes or until the potato is completely tender.  Remove the pot from the heat and add half the corn kernels.
3. Using a hand-held stick mixer (immersion blender), puree the soup until smooth.  Add the cream, then taste and season.  Add almost all the bacon and remaining corn kernels, reserving a few to garnish.  Serve topped with a few corn kernels, bacon and shallots.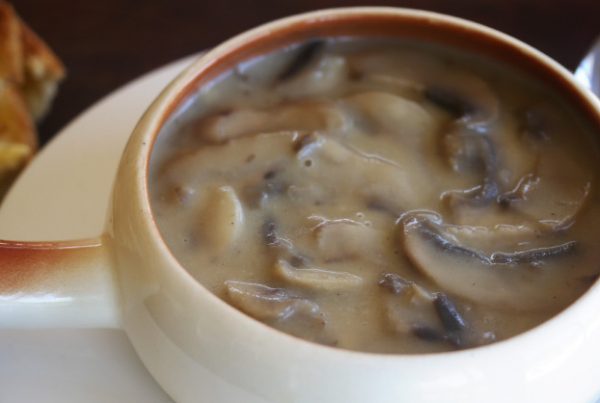 Serves 4 Prep time | 10 minutes Cooking time | 15 minutes • Mushroom soup is a great winter warmer served in warmed bowls with good sourdough toast. The cream can be omitted if calories…