Serves 4
Prep time | 10 minutes
Cooking time | 2 hours
This is such a simple way to make ribs. Without any marinating, it's still possible to get maximum flavour and a thick, sticky glaze. This is a great, easy weekend dinner – although the cooking time is 2 hours the actual time spent doing things is minimal. Best to eat these glazed pork ribs with a bib on and a face washer handy!

 Ingredients
• 1 teaspoon Chinese five-spice
• ½ teaspoon ground chillies (optional)
• 2 x 1kg American-style pork rib racks
• ½ cup rice wine vinegar (can use white vinegar)
• ½ cup firmly packed brown sugar
• ½ cup Char Siu sauce
• ½ cup dark soy sauce
• ¼ cup Shaoxing wine or sherry
• 2 teaspoons cracked black pepper
 Method
1. Preheat oven to 160°C (140°C fan-forced).
2. Place the rib racks in a large baking dish "shiny" side down and sprinkle with the five-spice and chilli powder. Cover the baking dishes tightly with foil and bake for 1 ½ hours in the slow oven.
3. In a medium saucepan over medium-high heat, combine the vinegar, sugar, char siu, soy, Shaoxing wine and pepper and pepper. Boil for 5 to 10 minutes, making sure it does not boil over. The sauce should be slightly thickened.
4. Remove the baking dish from the oven and take the foil off. Using tongs to handle the pork racks, run a knife between each bone so that they are individual ribs. Increase the temperature of the oven to 180°C (160°C fan forced) and pour the sauce over the ribs.
5. Toss through the sauce and cook for a further 15 minutes, basting with marinade every few minutes. The ribs will be falling-apart tender and have a lovely thick, sticky glaze.
This is delicious served with steamed rice and Chinese greens.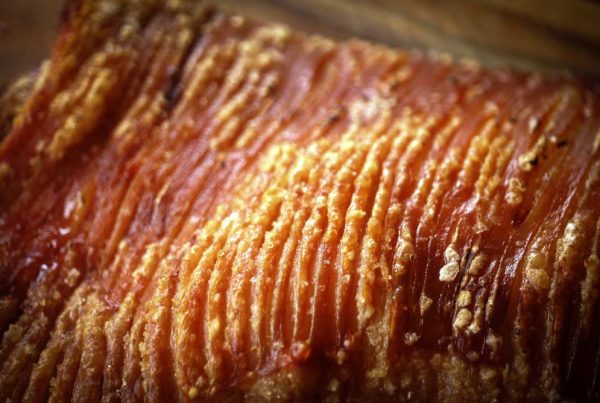 • Christmas Roast Secrets - pork crackle, gravy & crispy spuds | There are a few things you can do to ensure the success of your pork crackle. Firstly, the skin of…