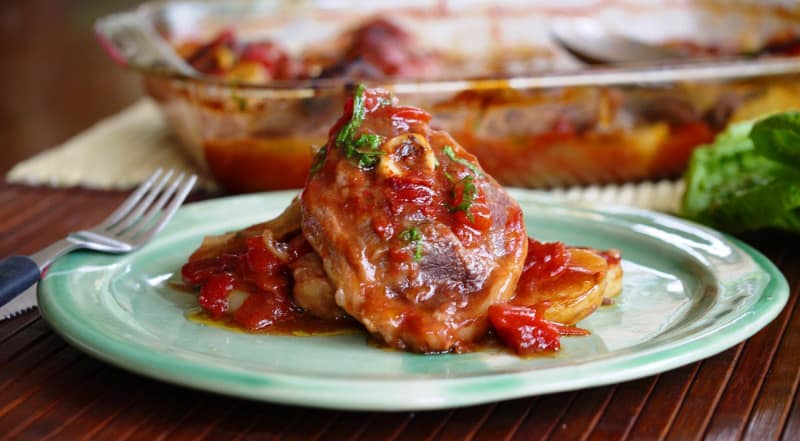 Serves 4
Prep time | 10 minutes
Cooking time | 2 hours
• Please don't be put off by the 2 hour cooking time of this lamp chop and potato bake – it takes literally minutes to put together and looks after itself in the oven! I used shoulder chops which were only $8.99 per kilo, making this not only delicious but very economical too! 
Ingredients
1/3 cup plain flour
8 (about 1.2kg) lamb shoulder or chump chops, trimmed of excess fat
2 large brown onions, sliced 1/2 cm thick
8 small or 4 medium chat potatoes, cut into slices
1 x 400g tin crushed tomatoes
1/3 cup Worcestershire sauce
1/3 cup brown sugar
½ bunch flat leaf parsley, roughly chopped
 Method
1. Preheat the oven to 180°C (160°C fan forced).
2. Lay the onion slices over the base of a large baking dish. (It must be large enough to contain the chops in a single layer.)
3. Dust the chops with flour and lay over the onions, then the potatoes over the top.
4. In a jug, combine the remaining ingredients except for the parsley, and pour over the contents of the baking dish. Cover tightly with foil and put into the oven.
5. After 1 hour 30 minutes, remove the foil. Return the baking dish to the oven for 30 minutes uncovered. The sauce will thicken and become beautifully rich. If the chops were very fatty you may need to use a large spoon to remove some from the top.
6. Serve scattered with the parsley. Great with salad and crusty bread.
Serves 4 Prep time | 15 minutes Cooking time | 6-8 hours • Slow cooked lamb shanks | This would have to be a favourite on a cold winter's night. Prepping in the morning…
Serves 4 Prep time | 10 minutes + marinating time Cooking time | 15-20 minutes This is a really simple and effective way to wet marinate lamb using a snap-lock bag. This marinade is also…
Recipe Summary
Recipe
Lamb Chop and Potato Bake
Author
Published
Prep Time
Cook Time
Total Time
Rating
Based on 123 Review(s)