Serves 12
Prep time | 20 minutes
Cooking time | 35 minutes + chilling time
• Lemon and Lime Tart | Beautiful served with vanilla ice cream. Note: This recipe is from The heart of the home
Ingredients | base
• 1 ½ cups plain flour
• ¼ cup self raising flour
• pinch of salt
• ½ cup icing mixture
• 100g butter
• 1 egg
Filling
• ½ cup lemon juice (about 2 lemons)
• ¼ cup lime juice (about 2 limes)
• 1 cup caster sugar
• 2/3 cup thickened cream
• 5 eggs, lightly beaten
 Method
1. Preheat oven to 180°C (160°C fan forced). Grease a 25cm fluted, loose-based flan tin.
2. Place flours, salt, icing mixture and butter in a food processor and process until it looks like breadcrumbs. Add the egg and process again until the dough comes together in a ball. Turn out onto a board. If the dough seems very dry and crumbly, add a teaspoon of cold water and briefly knead it in. Wrap in plastic wrap and put it in the fridge for 15 minutes.
3. Remove the pastry from the fridge and roll out to about 5mm thick. The pastry is very short – it will be very difficult to move in one piece. Tear pieces from the pastry and bit by bit, cover the base and sides of the flan tin. Press the edges of the pastry pieces together, taking care to keep it the same thickness throughout.
4. Put a sheet of baking paper into the flan tin and fill with baking weights or rice. Bake in the oven for 10 minutes. Remove the baking paper and weights and bake for a further 10 minutes or until lightly golden brown.
5. Combine the lemon and lime juice, sugar and cream in a bowl. Whisk in the beaten eggs a bit at a time until it is mixed. Pour the mixture into the pastry case and bake for 25 minutes or until set. Refrigerate until needed.
6. Beautiful served with vanilla ice cream.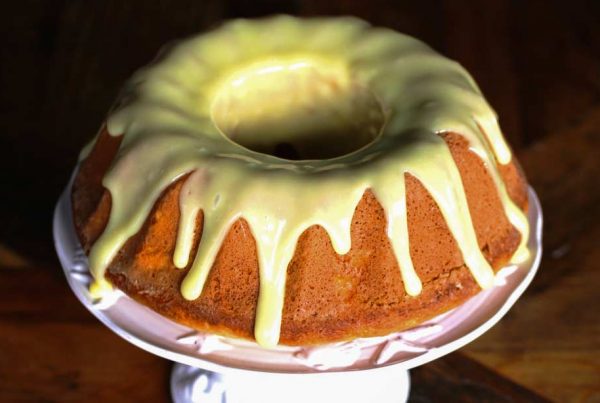 Serves 10 Prep time | 10 minutes Cooking time | 40 minutes • Apricot Sour Cream Cake | I like to make this in a bundt tin as it looks so pretty. If you cook…