Serves 4
Prep time | 15 minutes
Cooking time | 25 minutes
• Quiche lorraine | this is a classic  recipe – mix it up with different vegetables like grated carrot, zucchini or corn. Or simply remove the bacon and add some spinach and chunks of feta for a delicious vegetarian alternative.
Ingredients
For the pastry:
• 1 ½ cups plain flour
• ¼ teaspoon salt
• 125g butter, chilled and cubed
• 1 egg
For the filling:
• 6 eggs
• ¼ cup cream
• ½ teaspoon Salt
• ¼ teaspoon ground white pepper
• 4 rashers bacon, rind cut off, diced
• 1 large brown onion, diced
• 1 cup grated tasty cheese
 Method
1. Preheat oven to 170°C
2. Place the ingredients into a food processor and process until the mixture looks like fine breadcrumbs and there are no lumps of butter.  With the blades running, add the egg and process further until until the dough comes together in a ball.
3. Turn the dough out of the food processor onto a cold surface. If you have stone benchtops or a large stone or glass cutting board, these are ideal. Make sure your hands are cool by running under cold water if necessary, and gently knead the dough a few times just to bring it together. Wrap the dough in plastic in a disc roughly 3cm thick, and rest it in the fridge for 15 minutes.
4. To roll out the dough, place it between two sheets of non-stick baking paper. Roll very gently with a rolling pin.  It needs to be done quite slowly and gently so that it is being flattened, rather than stretched. Rest it again before using.  At this stage, if the dough is too soft from a warm kitchen, it can be refrigerated on a tray in the oven. If it goes too hard, it will need to be brought back to room temperature for a few minutes.
5. Spray a 23cm pie dish (or quiche tin) with olive oil and line with short crust pastry. Prick the pastry with a fork. Lay baking paper in the pie dish and fill with baking weights or rice. Bake for 15 minutes then remove from the oven and take out the weights and paper.
6. In a fry pan over medium high heat, sauté bacon until starting to brown.  Place the eggs, cream, salt and pepper in a bowl and beat with a fork or whisk until just combined. Lay the bacon and onion mixture over the base of the pastry, followed by chopped herbs (if using) and tasty cheese.  Carefully pour the egg mixture into the tart case.
7. Bake for 25 minutes or until egg has just set.
These pancakes are fluffy, easy to make, and a family favourite in our house! Makes 8 Preparation time: 10 minutes  Cooking time: 3 minutes per batch 1 cup (150 g)…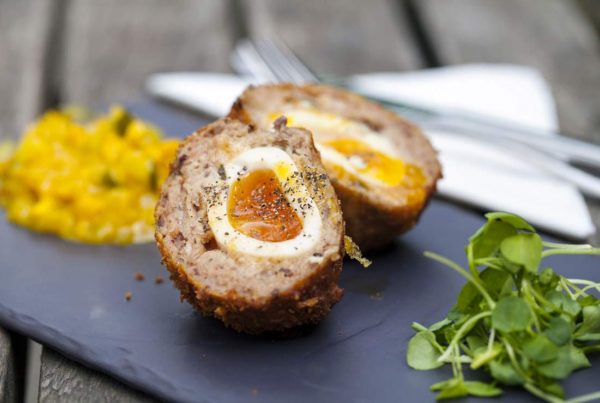 Makes 8 Prep time | 20 minutes Cooking time | 15 minutes • Scotch Eggs | After initially boiling the eggs remove them with a slotted spoon and put into a bowl of cold…
Serves 2 Prep & cooking time | 20 minutes • Eggs Benedict | This is my take on the ever popular 'Eggs Benny' - including the Hollondaise sauce. If you are using smoked salmon instead of…