Serves 4
Prep time | 10 minutes
Cooking time | 1 hour
Roast chicken has to be an all time favourite. When my mum was a kid they only had chicken on Christmas day. We are so lucky now to have chicken available, more cheaply than other meats for the most part, for an easy, tasty dinner.
Ingredients
• 1.7 – 1.8kg chicken – try to buy organic or free range
• 50g unsalted butter, at room temperature
• 1 tablespoon rosemary leaves, finely chopped
• ¼ cup flat leaf parsley, leaves chopped
• 1 clove garlic, crushed
• 1 lemon, zest finely grated and cut in half
• ½ teaspoon ground black pepper
• ½ teaspoon salt
• 1 brown onion, cut in half
• ¼ cup flour
• 2-3 cups chicken stock
 Method
1. Preheat the oven to 180°C. Rinse the chicken and pat dry with a paper towel.
2. In a bowl, combine the butter, fresh herbs, lemon zest, garlic, salt and pepper. Using your fingers, starting at the neck end, separate the skin from the breast of the chicken, including the tops of the thigh/drumsticks.
3. Push the butter mixture under the skin and spread it evenly over the breast and tops of the thighs. Use your buttery hands to give the outside of the chicken a loving massage. Place the halved lemon and onion cut-side down in the base of a non-stick baking dish. Add the rosemary and parsley stalks and sit the chicken on top. Place in the oven with the breast facing the back of the oven. About half an hour later, spin it around so that the legs/thighs are facing the back.
4. An hour is a subjective cooking time – depending on your oven, on whether the chicken's legs are trussed shut, even the size of the baking dish have an impact on cooking time. To check that the chicken is cooked, pierce the thickest part of the thigh with a skewer and the juices should run clear. Another way to tell is if the leg joint feels loose in its socket, or when the chicken is picked up with tongs by its cavity, the juices run clear. The breast should be golden brown with a lovely layer of herbs underneath the skin.
5. To make the gravy, pour off any excess butter but be sure not to lose any of the cooked golden bits. Remove the onion, lemon halves and stalks. Place the baking dish on the smallest stove element. Using a spatula, stir in the flour and turn the element onto a low heat. Add stock a little at a time, stirring until thickened after each addition. The amount of stock you use depends on how thick you like the gravy.
6. Roast chicken can be served with any number of accompaniments. With these beautiful flavours I think it's lovely with baby chat potatoes, tabouleh and maybe some flatbread.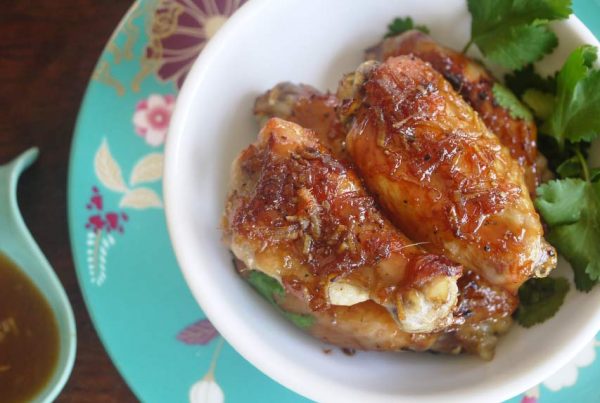 Serves 4 Prep time | 15 minutes Cooking time | 50 minutes Ingredients • 1 cup marmalade • 1 cup orange juice • 1 tablespoon soy sauce • 2 cloves garlic, crushed • 3cm piece ginger, finely julienned • ½…