Serves 4
Prep time | 15 minutes
Cooking time | 2 hours
Ingredients
• 2 teaspoons chinese 5-spice powder
• 1.2kg piece pork belly, bone out, skin on
• 2 tablespoons cooking salt
• 5cm piece of ginger, skin on, sliced
• 6 cloves garlic, cut in half
• 2 small red chillies, halved
• 2 star anise
• 12 black peppercorns, roughly smashed
• ½ cup Shaoxing wine
• ½ cup light soy sauce
• 1 large bunch of pak choi, stems and leaves finely sliced
• 6 shallots (spring onions) sliced
 Method
1. Preheat oven to 220°C (200°C fan forced).  Sprinkle the 5-spice over the meat side of the pork and rub in with your hands.  Turn the pork over and score the rind.  Rub thoroughly with salt.
2. Place the pork on a rack in a baking tray, and put into the oven.  After 30 minutes turn the temperature down to 160°C (140°C) and roast for a further 1 ½ hours.
3. Remove from the oven and allow to cool for 15 minutes before slicing into pieces.
4. In a large pot over medium heat, place the ginger, garlic, chillis, star anise, peppercorns, shaoxing wine and soy sauce. Add 1 ½ litres of water and bring to the boil. Reduce to a gentle simmer and simmer, covered, for around an hour while the pork cooks.Strain through a strainer lined with muslin or cheesecloth.
5. Divide the pak choi and shallots between four deep noodle bowls.  Pour the broth over the vegetables and divide the pork between the bowls, perching it on top.  Serve immediately.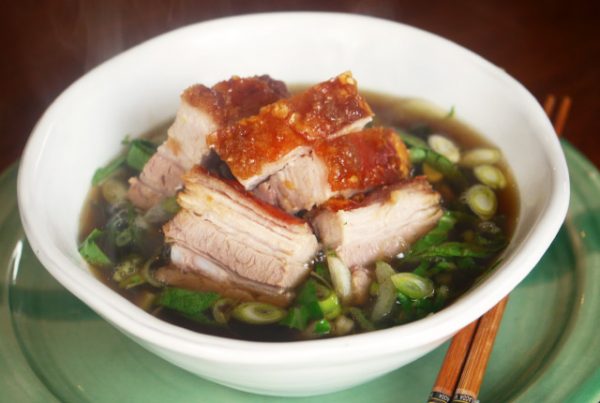 Serves 4 Prep time | 15 minutes Cooking time | 2 hours Ingredients • 2 teaspoons chinese 5-spice powder • 1.2kg piece pork belly, bone out, skin on • 2 tablespoons cooking salt • 5cm piece of ginger,…