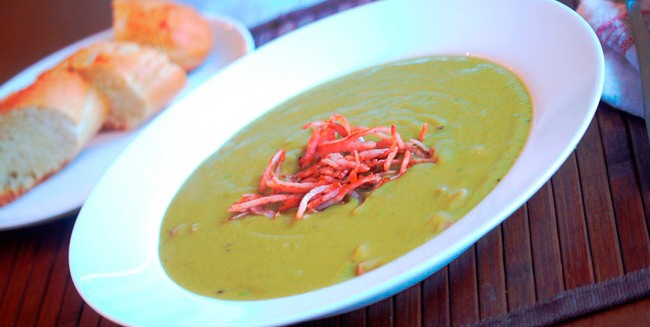 Makes about 3 litres
Prep time | 15 minutes
Cooking time | 3 hours
My all-time go-to winter warmer is pea and ham soup. Even though it's a soup, this is filling enough to be a main meal on its own. It's yet another family favourite for the cooler months. It's very straightforward to make and is a great standby in the fridge for afternoon tea for hungry teenagers as well.
Ingredients
• 1 tablespoon olive oil
• 1 brown onion, roughly chopped
• 1 clove garlic, chopped
• 1 carrot, diced
• 1.2 kg ham hocks (see cook's note)
• 500g green split peas
• 2 cups frozen peas
 Method
1. Heat oil over medium-high heat in a very large pot on the stove top. Saute onion, garlic and carrot for 2 minutes or until starting to soften. Add the hocks and cover with 2 litres water. Add the split peas to the pot.
2. Lower heat and simmer gently for around 2 ½ hours. (You may need to top the water up to keep the ham hocks covered, but try not to add any more than necessary or it will just need to be reduced at the end.) The split peas should be completely soft. Remove the ham hocks and set aside to cool.
3. Add 2 cups of frozen peas to the pot and after 1 minute, turn the heat off. The frozen peas give a brighter green colour and fresh flavour.
4. Using a hand-held stick mixer, blend the soup in the pot until all the ingredients are completely pureed and velvet smooth. If you don't have a stick mixer, transfer the soup in batches to a blender.
5. If the soup is too thin for your liking, simmer for a bit longer or until it reduces and thickens up.
6. Remove the skin, bone and fatty bits from the hocks. Shred or slice the meat – the consistency is up to you. I like it quite fine so each mouthful of soup has some pieces of ham in it – others like bigger chunks of meat. Return the ham to the soup and serve with a grind of black pepper, and a robust bread such as toasted sourdough or warm crusty rolls.
 Cook's note
Instead of ham hocks you can use a similar amount of bacon bones – I prefer the hock as I feel you get more meat from it and there is less chance of small bones ending up in the soup.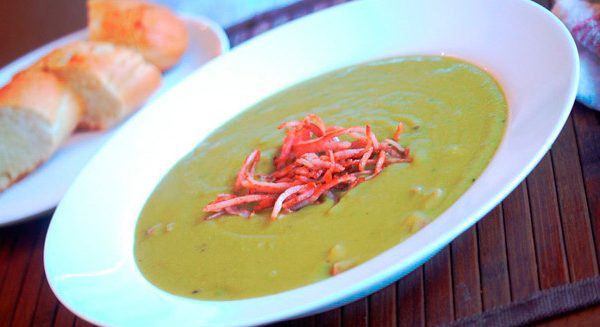 Pea & Ham Soup
Makes about 3 litres Prep time | 15 minutes Cooking time | 3 hours My all-time go-to winter warmer is…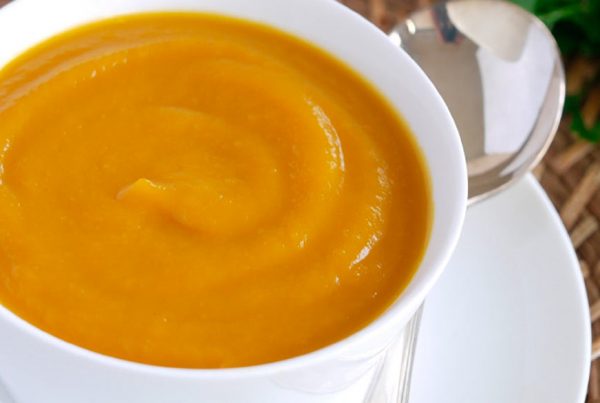 Roast Pumpkin Soup
 Makes about 2 litres Prep time | 10 minutes Cooking time | 35 minutes • Pumpkin soup comes in…