Serves 4
Prep time | 15 minutes
Cooking time | 50 minutes
Ingredients
• 1 cup marmalade
• 1 cup orange juice
• 1 tablespoon soy sauce
• 2 cloves garlic, crushed
• 3cm piece ginger, finely julienned
• ½ teaspoon ground black pepper
• 2kg chicken wings, jointed, tips kept for stock
 Method
1. Preheat the oven to 200°C (180°C fan forced)
2. Place the marmalade, orange juice, soy sauce, garlic, ginger and pepper into a small saucepan over medium high heat. Stir well, then bring to the boil and remove from the heat. Reserve a little bit of glaze for serving.
3. Place the jointed chicken wings is a single layer on a large baking tray (or 2 trays if they won't fit in one.) Brush all over with orange glaze. Bake for 50 minutes or until dark golden, sticky and cooked through. Baste with the glaze every 10 minutes during cooking.
Great with rice and steamed broccolini.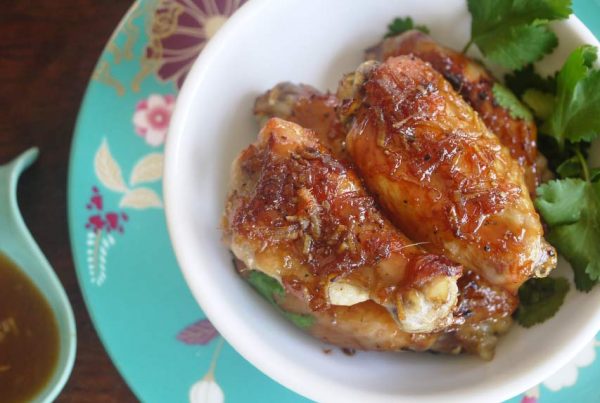 Serves 4 Prep time | 15 minutes Cooking time | 50 minutes Ingredients • 1 cup marmalade • 1 cup orange juice • 1 tablespoon soy sauce • 2 cloves garlic, crushed • 3cm piece ginger, finely julienned • ½…