Serves 10
Prep time | 10 minutes
Cooking time | 40 minutes
• Apricot Sour Cream Cake | I like to make this in a bundt tin as it looks so pretty. If you cook it in a normal tin it will need a little longer to cook through the middle.
Ingredients
• 125g butter, at room temperature
• ¾ cup caster sugar
• 1 teaspoon vanilla extract
• 2 eggs, at room temperature
• 1 cup sour cream
• 1 x 400g tin apricots, drained and chopped
• 2 ¼ cups self-raising flour
• ½ teaspoon bicarb soda
• 1/3 cup sour cream
• 200g white choc bits
 Method
1. Preheat oven to 180°C (160°C fan forced).
2. Grease a 26cm bundt tin.
3. In an electric mixer, cream butter and sugar until pale and fluffy. Add the vanilla and beat again. Add the eggs one at a time, beating after each one.
4. Fold through the sour cream and apricots, the gently mix through the flour and bicarb soda. The batter will be quite thick. Place it in the bundt tin and level with a spoon.
5. Bake for 40 minutes or until golden and springy to touch, and coming away from the sides of the tin. Turn out onto a wire rack and cool completely before icing.
6. In a microwave safe jug, combine the sour cream and choc bits. Microwave for 1 minute on high and stir to mix thoroughly. Allow to cool a little and thicken up.
7. When the cake is cool but the icing still warm, drizzle it over the cake.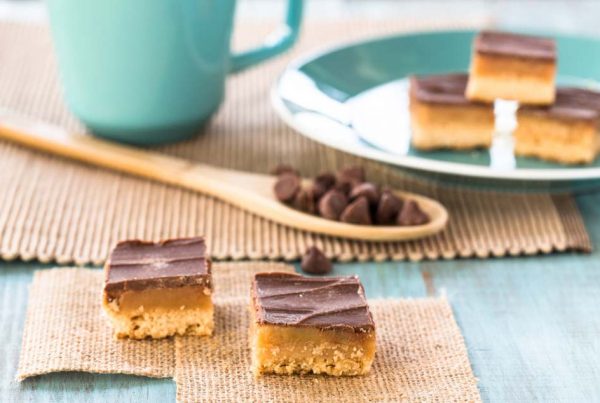 Makes 20 squares Prep time | 20 minutes + cooling & refrigeration time Cooking time | 40 minutes • Prep time is only 20 minutes but this recipes also requires some cooling and refrigeration time.…