Serves 4
Prep & cooking time | 30 minutes
• Corn fritters are not only a great brunch dish, they also go well with grilled chicken breast and avocado for an easy weeknight dinner. For breakfast serve with bacon and a generous dollop of tomato relish.
Ingredients
• 3 cobs fresh corn, silk and husk removed
• 2 eggs, whisked
• 1/3 cup milk
• ¾ cup (115g) self-raising flour
• ¼ cup shallots (green onions) finely sliced
• ¼ cup coriander leaves, chopped
• salt and ground white pepper to taste
• olive oil for frying
 Method
1. Cook the corn cobs either by boiling or microwaving until the kernels are tender but still al dente. Boiling will take 5 minutes, microwave time will depend on your machine but give it 1 ½ minutes per cob and then longer if required.
2. When the corn has cooled enough to handle, run a sharp knife the length of the cobs to remove the kernels. Season with salt and pepper.
3. Meanwhile mix eggs and milk together. Place flour in a bowl and add milk mixture gradually, ensuring there are no lumps.
4. Stir in corn kernels, shallots and coriander. Set aside for 15 minutes to rest.
5. Meanwhile, cook some bacon rashers until done to your liking. These can be pan fried, and the fat added to the cooking oil for the fritter, or for crispier bacon cook it under a hot grill.
6. Heat 1 tablespoon of olive oil in a chef's pan over medium heat. Drop 2 tablespoons full of the fritter mix in the pan. Give the fritters space to spread and yourself space to flip them. After about 2 minutes they should have bubbles appearing and setting on the upper surface, and be golden brown underneath. Flip and cook for another minute.
7. Serve the fritters with the bacon and a generous dollop of tomato relish.
Serves 2 Prep time | 15 minutes Cooking time | 45 minutes Pumpkin bake with labne |  (more…)
Falafel Makes 14 Falafel | hot, freshly made falafel are one of the great joys. Eat them in a wrap with hommous and tabouleh, or enjoy them as part of…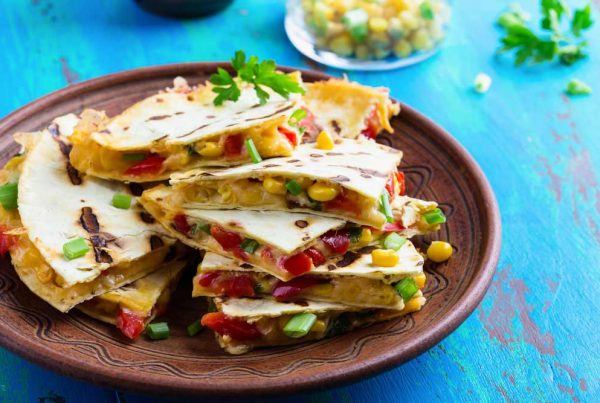 Serves 4 Prep time | 10 minutes Cooking time | 10 minutes • Corn & Capsicum Quesadillas | This is a very quick, easy, inexpensive and delicious mid-week meal. (more…)