Serves 4
Prep time | 15 minutes
Cooking time | 15 minutes
• Eggplant & Sweet Potato Curry | This is a great do-ahead dish as it tastes even better after being reheated. To convert it into a meat meal, reduce the volume of vegetables and add 600g of browned chicken thigh fillet while simmering.
Ingredients
• 2 tablespoons vegetable oil
• 1 red onion, cut into wedges
• 2 cloves garlic, crushed
• ¼ cup Thai red curry paste
• ½ sweet potato, peeled and cut in a 2cm dice (about 2 cups)
• 1 eggplant, peeled and cut in to 2cm cubes (about 4 cups)
• 1 x 400g tin crushed tomatoes
• 1 x 400ml tin coconut cream
• 1 tablespoon brown sugar
• ½ teaspoon salt
• ½ cup basil leaves
 Method
1. Place oil in a wok over medium heat, and stir fry the onion and garlic until softened. Add the curry paste and stir for another minute, until fragrant.
2. Add the sweet potato and eggplant and toss to coat in the curry paste. Add the tomatoes, coconut milk, brown sugar and salt.
3. Bring to the boil and reduce the heat.
4. Leave on a high simmer, stirring occasionally, until the sweet potato is tender and all the vegetables have cooked through. Taste and add more salt or sugar if required.
5. Remove from the heat and stir through basil leaves.
6. Serve with jasmine rice.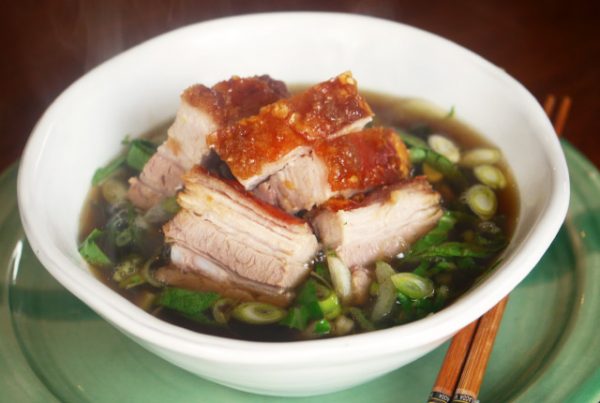 Serves 4 Prep time | 15 minutes Cooking time | 2 hours Ingredients • 2 teaspoons chinese 5-spice powder • 1.2kg piece pork belly, bone out, skin on • 2 tablespoons cooking salt • 5cm piece of ginger,…