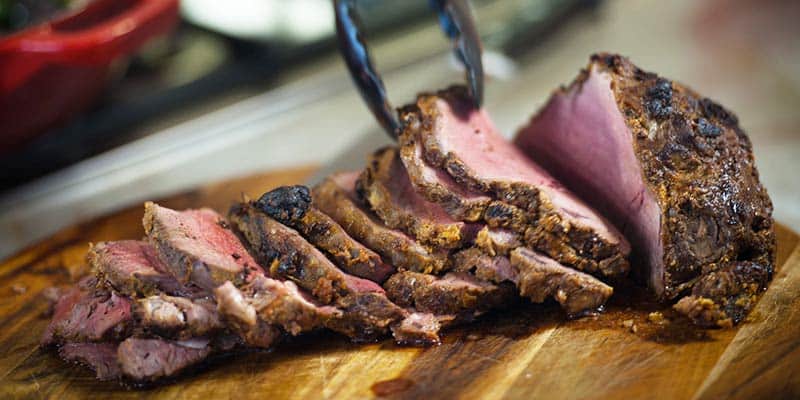 Ingredients
• 1.5 kg eye fillet of beef (thick end)
• 1 tbs ground fennel seeds
• 1 tbs ground coriander seeds
• 1 tbs ground cumin seeds
• 2 tsp ground red chilli
• 3 cloves garlic, crushed
• ¼ cup Dijon mustard
• 2 tbs olive oil
 Method
1. Preheat oven to 180°C.
2. Combine the spices, garlic and mustard and rub all over the beef fillet. Place in a snap-lock plastic bag and refrigerate for at least 6 hours or overnight.
3. In a large chef's pan, heat 1 tbs olive oil over medium-high heat. Brown the roast on all sides. Place pan in oven or place hood on the BBQ.
4. Roast the beef for 20 minutes for rare, 30 minutes for medium or 45 minutes or more for medium-well done.
5. Rest the beef for at least 10 minutes under foil before carving. Carve and serve with a good quality horseradish cream or hot mustard.
 Cook's note
Oven/BBQ temperatures and behaviour will vary. For rare meat, remove the roast when the internal temperature reads 55-57°C. For medium rare, remove at 60-62°C. And for medium, remove at 68-70°C. For well done 75°C or above.
For a really fresh spice flavour, use whole seeds instead of ground spices. Toast in a dry frying pan until fragrant and grind in a mortar and pestle.