Serves 10-12
Prep time | 20 minutes
Cooking time | 20 minutes
Pavlova | In our beautiful Australian climate many people choose to enjoy a cold lunch on Christmas day, with ham, and seafood, and beautiful salads and stone fruits and trifles.  We usually have a big pavlova for dessert, and here's a variation on the usual pavlova that looks elegant and Christmassy too! NOTE | Image by the talented John Paul Urizar – styled by Yael Grinham.
Ingredients
• 8 egg whites
• 2 cups caster sugar
• 1 tablespoon cornflour
• 1 tablespoon white vinegar
• 1 teaspoon vanilla extract
• 600ml cream
• 2 punnets strawberries
• 1 pomegranate
 Method
1. Preheat oven to 160ºC. Grease and line a 26cm x 34cm baking tray with baking paper.
2. In the bowl of an electric mixer, whip the egg whites until soft peaks form. Add the sugar a little bit at a time, whipping continually, until the sugar is dissolved and stiff peaks have formed.
3. Sprinkle over the cornflour, vinegar and vanilla and gently fold through the egg whites until combined. Do this very gently!
4. Spread the mixture into the baking dish and bake for 20 minutes or until just firm.
5. Whip the cream and slice half the strawberries.
6. When the meringue comes out of the oven, allow to cool for 5 minutes. Sprinkle a fresh sheet of baking paper with cornflour and lay over the top of the meringue. Lay a clean tea towel on the bench, and carefully invert the baking dish so that the meringue comes out on top of the baking paper and on top of the tea towel. Carefully remove the baking paper from the bottom of the meringue.
7. Spread half the cream in a line along the long edge of the meringue closest to you. Press the sliced strawberries into the cream.
8. Now the fun part – carefully, using the tea towel as a helping hand, roll the meringue over the cream until it looks like a log. Carefully lift onto the serving plate, putting the join at the bottom.
9. Spread the other half of the cream over the top, and decorate with quartered strawberries. Cut the pomegranate in half, hold the halves cut side down over the roulade and whack it with a spoon so the seeds fall onto the cream.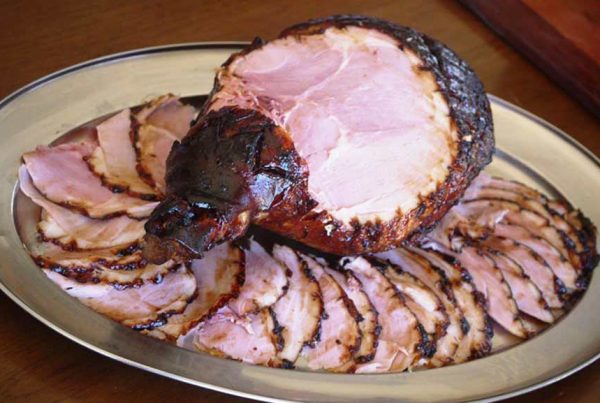 Serves as many people as you can invite over! Prep time | 15 minutes Cooking time | 3 hours Christmas Ham | I love to glaze my ham for Christmas day, but I prefer to eat it cold so…