Serves 4
Prep time | 5 minutes
Cooking time | 40 minutes
The dry marinade used in this recipe is also perfect with chicken drumsticks or thigh cutlets. Using a snap lock bag to apply the marinade is a really simple and effective method to ensure all of the chicken is evenly coated.
Ingredients
• 2 teaspoons paprika
• 2 teaspoons chilli powder (omit if for kids)
• 2 teaspoons ground cinnamon
• 2 teaspoons garlic powder
• 2 teaspoons onion powder
• 2 teaspoons salt
• 1.6 kg chicken "wing dings" (jointed chicken wings) or 8 chicken thigh cutlets
• ¼ cup olive oil
 Method
1. Preheat the oven to 180°C.
2. Combine all the dry spices in a Glad snap lock bag. Place the chicken in the bag a few pieces at a time and coat evenly.
3. Place the chicken in a large baking tray and drizzle with oil. Make sure the wings (or cutlets) aren't crowded – use more than one tray if necessary, or they will be stewed instead of crisp.
4. Place in the oven for 40 minutes or until cooked through. Juices will run clear when the chicken is pierced with a skewer. The time will vary according to the size of your chicken pieces.
5. Serve with a piri piri (hot red chilli) sauce, or some plain yoghurt.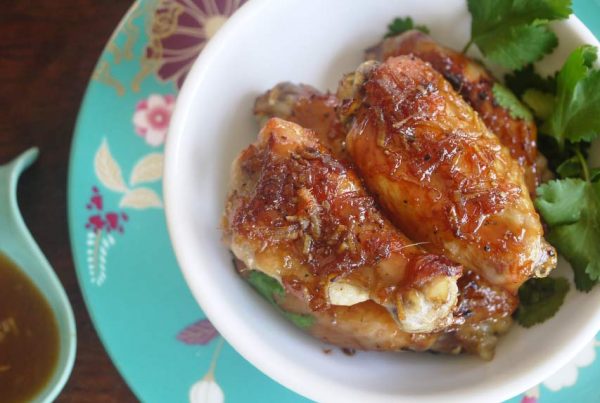 Serves 4 Prep time | 15 minutes Cooking time | 50 minutes Ingredients • 1 cup marmalade • 1 cup orange juice • 1 tablespoon soy sauce • 2 cloves garlic, crushed • 3cm piece ginger, finely julienned • ½…