Makes 12
Prep time | 30 minutes
Cooking time | 20 minutes (5-7 minutes / batch)
 Ingredients
• 50g rice vermicelli
• 200g belly pork (skinless)
• 200g raw prawn meat, roughly chopped
• 2 cloves garlic, chopped
• 1 bunch shallots (spring onions), julienne
• ½ teaspoon salt
• ½ teaspoon ground white pepper
• 12 spring roll wrappers
• oil, for deep frying
 Method
1. Place the vermicelli into boiling water for 2 minutes until soft. Refresh with cold water and drain well.
2. Put the pork belly (or scotch fillet, or other fatty cut) through the food processor until minced.
3. In an bowl, combine the pork, prawns, garlic, shallots, noodles, salt and pepper. Using your hands, work the mince thoroughly until it is very sticky. This will take a few minutes.
4. Lay the spring roll wrapper so it forms a diamond in front of you. Place a heaped spoonful of mixture across the bottom third of the wrapper, then bring up the bottom corner and roll. When you get to the "east and west" corners, fold them in and finish rolling. Wet the point with water so that it sticks.
5. Heat oil in a deep fryer to 190°C, or in a pot until a cube of bread takes 1 minute to go golden brown.
6. Fry the spring rolls in lots of 4, for 5-7 minutes or until a mid-golden brown.
Serve with dipping sauces | see recipe here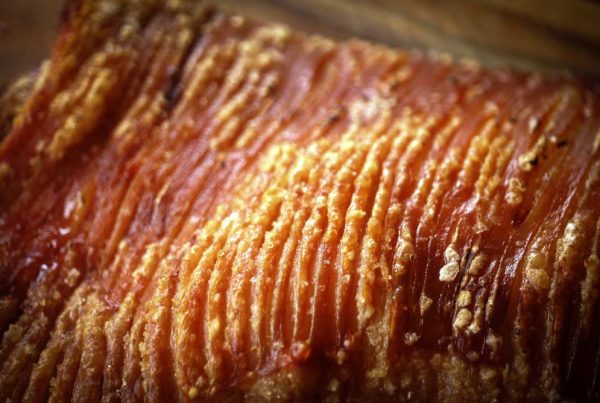 • Christmas Roast Secrets - pork crackle, gravy & crispy spuds | There are a few things you can do to ensure the success of your pork crackle. Firstly, the skin of…