Cooking time = 45 minutes
Sri Lankan chicken curry | the flavour in this easy-to-make curry is provided by a mixture of garlic, ginger, curry leaves and powder, ground chillies, sugar and coconut milk.
2 tablespoons olive oil
1 whole (1.6kg) chicken, cut into thighs, legs, wings, halved breasts. (10 pieces)
3 cloves garlic, peeled
2 large brown onions, halved
5cm piece ginger, peeled and sliced
2 branches curry leaves, stripped from the branch.
2 tablespoons curry powder
1 teaspoon ground chillies
1 x 400ml tin crushed tomatoes
1 x 400ml tin coconut milk
1 tablespoon sugar
2 teaspoons salt
STEP 1 | Place garlic, onions and ginger in the bowl of a mini food processor and process until fine.
STEP 2 | In a large, heavy-based enamel pan or non-stick pot over medium high heat, place the oil and place the chicken pieces, skin-side down, in the pan until browned. It does not need to be cooked through at this stage. Remove to a bowl.
STEP 3 | Add the onion mixture and curry leaves, and saute until soft and fragrant. Add the curry powder and ground chillies and stir with a spatula for 1 minute or until well combined. Return the chicken (with the exception of the breast pieces) to the pan (along with any juices that have accumulated in the bowl.)
STEP 4 | Add the tomatoes, coconut milk, sugar and salt and simmer for 30 minutes or until the chicken is cooked to the bone. 10 minutes before the end of cooking, add the breast pieces to the pot.
STEP 5 | Stir regularly to ensure the sauce does not catch and burn on the bottom of the pot. Serve with steamed rice or rice vermicelli noodles.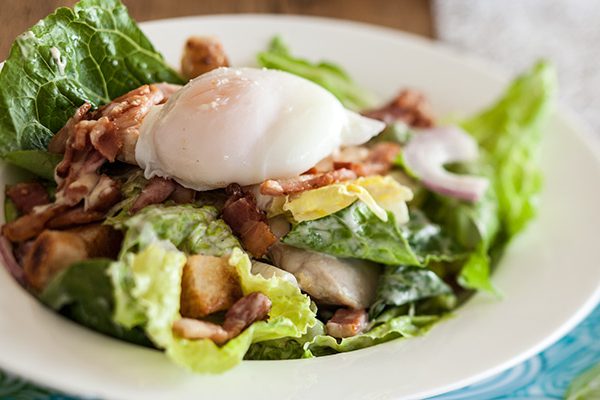 Chicken Caesar Salad
Serves 4 Prep time | 15 minutes Cooking time | 15 minutes • Chicken Caesar Salad | Fresh eggs…
Chicken Cacciatore
Serves 4 Prep time | 15 minutes Cooking time | 35 minutes • Chicken Cacciatore is such a delicious dish,…