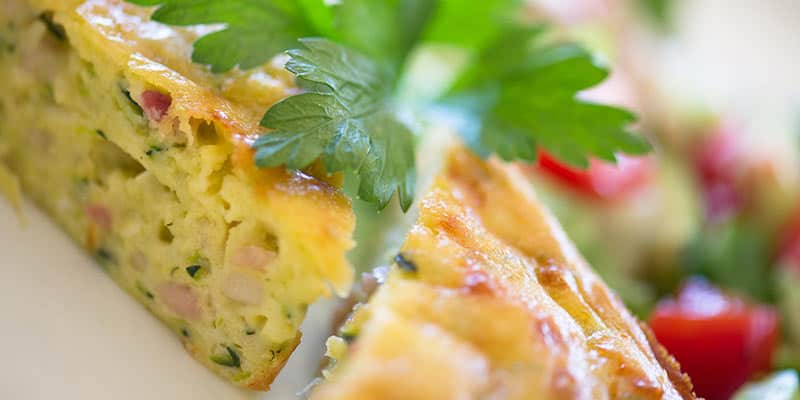 Makes 1 slice (12 pieces)
Prep time | 10 minutes
Cooking time | 35 minutes
Zucchini slice is ridiculously easy to make, and it's really tasty and versatile too. It's great hot or cold, which means it's perfect for school lunches or afternoon tea.
Ingredients
• 2 zucchini, grated
• 1 large onion finely chopped
• 3 rashers bacon finely chopped
• 1 cup tasty cheese grated
• 1 cup self-raising flour
• ½ cup of oil
• 5 eggs
• salt/pepper
 Method
1. Preheat oven to 170°C. Grease and line a non-stick lamington tin.
2. Combine zucchini, onion, bacon, flour and cheese in a large bowl. Add oil and lightly beaten eggs, and mix. Season with a little salt and pepper. Pour into lamington tin.
3. Bake for 35-40 mins until golden and set. Allow to cool slightly before cutting.
Note: the vegetables can be substituted or added to – try corn kernels, grated carrot, shallots, shredded beans, and leave out the bacon for a vegetarian version.
Beef Stroganoff | Serves 4 Prep time | 15 minutes Cooking time | 15 minutes • Beef Stroganoff…
Serves 4 Prep time | 30 minutes Cooking time | 30 minutes • Seafood stew | Serve in bowls…
Makes 18 pieces Prep time | 2 minutes Cooking time | 3 minutes + chilling time Basic…
Recipe Summary
Recipe
Author
Published
Prep Time
Cook Time
Total Time
Rating
Based on 499 Review(s)