Serves 4
Prep time | 10 minutes
Cooking time | 10 minutes
This is a tasty weekend breakfast, making good use of fresh, seasonal asparagus.
Ingredients
• 1 tablespoon olive oil
• 4 rashers bacon, rind removed, very finely diced
• ¼ cup red wine vinegar
• 2 bunches (approx. 16 spears) fresh green asparagus, woody ends removed
• 4 fresh eggs
 Method
1. In a fry pan over medium-high heat, place olive oil and chopped bacon. After a few minutes the bacon will become golden and crispy. A few little pieces might jump around in the pan so be careful. Add the vinegar and remove the pan from the heat. Mix well.
2. Place about 5cm of salted water into a large, deep fry pan or chef's pan. Bring to a fast simmer. Simmer the asparagus for roughly 1 ½ minutes, or until bright green and tender but still crisp. (Exact time will depend on the thickness of the spears.) Drain on a paper towel. Reduce the heat in the fry pan to a gentle simmer. Crack an egg into a teacup and gently release it into the water. Repeat with the other three eggs. Poach for 2 minutes or until the egg white is just set and the yolk is runny.
3. Serve the asparagus on a slice of toasted sourdough or baguette, topped with the poached egg and generously drizzled with the bacon vinaigrette.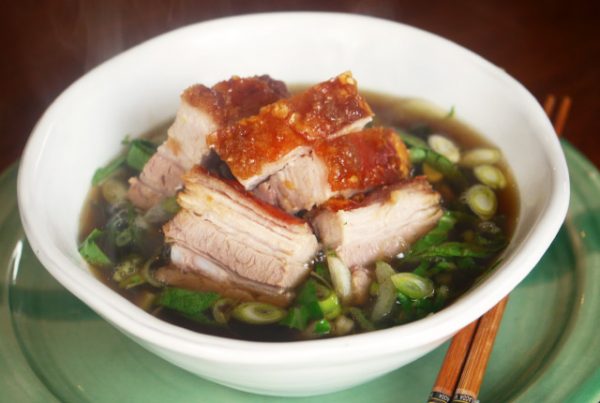 Serves 4 Prep time | 15 minutes Cooking time | 2 hours Ingredients • 2 teaspoons chinese 5-spice powder • 1.2kg piece pork belly, bone out, skin on • 2 tablespoons cooking salt • 5cm piece of ginger,…