Oysters Kilpatrick | Over the years at the Narooma Oyster Festival I have been lucky enough to be asked to judge the oyster cooking contest. Entrants created some wild and wonderful creations, including a few that I maybe won't even try at home! This is my take on an oldy but a goody – Kilpatrick …

12 fresh oysters
2 rashers bacon
¼ cup tomato sauce
1 tablespoon Worcestershire sauce
½ teaspoon Tabasco
1 tablespoon fresh parsley, finely chopped
STEP 1 | Preheat the grill to 200°C.
STEP 2 | Cut the bacon into the finest strips you can. In a frying pan over high heat, sauté until it goes lightly golden and starting to crisp.
STEP 3 | Combine the sauces and Tabasco in a small bowl.
STEP 4 | Place the oysters on a tray on a bed of rock salt so they are stable and level. Divide the bacon between the 12 oysters and top with teaspoonfuls of the sauce.
STEP 5 | Put under the hot grill for 2 minutes or until the sauce is bubbling.
STEP 6 | Remove, sprinkle with parsley and serve on a fresh bed of rock salt.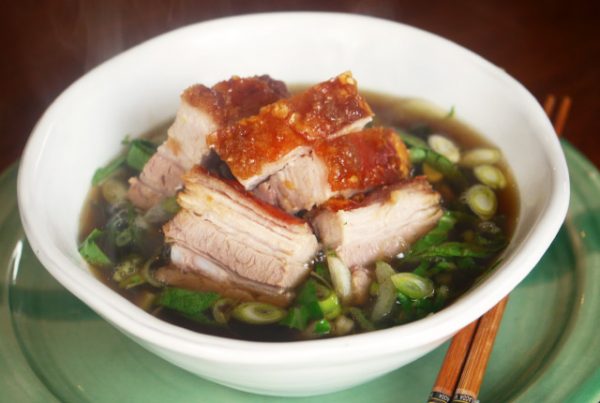 Crispy Pork Belly in Ginger Broth
Serves 4 Prep time | 15 minutes Cooking time | 2 hours Ingredients • 2 teaspoons chinese 5-spice powder • 1.2kg…
White Chocolate and Raspberry Muffins
Serves 6 Prep time | 5 minutes Cooking time | 35 minutes White Chocolate and Raspberry Muffins |…