Serves 4-6
Prep time | 15 minutes
Cooking time | 1.25 hours
• Thai Green Chicken Curry | I fell in love with Thai food over 20 years ago, when I was lucky enough to go there on my honeymoon. The fragrance of this curry cooking takes me back there every time!
Ingredients
• ½ bunch coriander
• 1 stalk lemongrass, white part finely chopped
• 2 small red chillies, seeded and chopped (use Thai green chillies if available)
• 2 cloves garlic
• 5cm piece ginger, chopped
• 2 tablespoons peanut oil
• 600g chicken thigh fillets, sliced
• 2 kaffir lime leaves, sliced as finely as possible – into threads
• 400ml can coconut cream
• 1 small zucchini, sliced into ribbons
• 50g green beans, topped, tailed and sliced
• 1 tablespoon brown sugar
• 2 teaspoons fish sauce
• 2 tablespoons lime juice
 Method
1. Wash the coriander thoroughly. Scrape and chop the roots, and chop the stems. Reserve the leaves for serving. Place in the bowl of a mini food processor with lemongrass, chillies, garlic and ginger and grind into a paste.
2. Place ¼ teaspoon peanut oil in a chef pan over high heat and quickly stir fry ¼ of the chicken until starting to brown. Remove to a bowl and repeat with the remaining chicken and oil.
3. Put a few drops of oil in the wok and stir fry the curry paste for 2 minutes or until fragrant. Add the chicken back into the wok and toss to coat in curry. Add kaffir lime leaves and coconut cream.
4. Reduce the heat and simmer for 7-8 minutes or until chicken is cooked through. Add brown sugar, fish sauce and lime juice. Taste and add more of any of these things as your taste dictates. In the last minute of cooking, add the zucchini and beans.
5. Serve scattered with coriander leaves.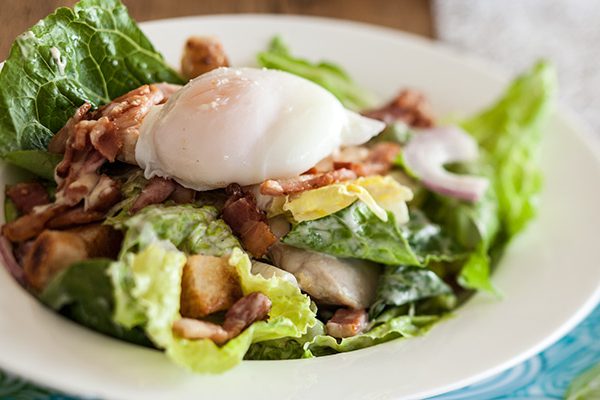 Serves 4 Prep time | 15 minutes Cooking time | 15 minutes • Chicken Caesar Salad | Fresh eggs are important for this classic salad recipe, so that the egg whites stay together with…