Serves 4 as an entree
Prep time | 20 minutes + marinating time
Cooking time | 10-15 minutes
• Satay Chicken Skewers | This is a quick and easy satay chicken recipe which only takes 20 minutes to prep (plus a little more time for marinating the chicken) and 10-15 minutes to cook on a BBQ or grill plate.
Ingredients
• 4 (400g) chicken thigh fillets, cut into 1cm thick strips
• 1 x 400ml can coconut cream
• 4 cloves garlic, chopped
• ¼ bunch coriander
• 1 brown onion
• 1 lime, zested and juiced
• 1 long red chilli
• 2 tablespoons peanut oil
• 1 teaspoon ground turmeric
• ¼ teaspoon ground dried chillies
• ½ cup crunchy peanut butter
• 1 tablespoon fish sauce
• 1 tablespoon brown sugar
 Method
1. Combine half the coconut cream and half the garlic in a bowl. Toss the chicken through and set aside to marinate for an hour.
2. Wash the roots and stems of the coriander (reserving the leaves) and place in a food processor along with the onion, garlic and lime zest. Process until very fine.
3. Heat half the oil in a large non-stick frypan over medium heat. Add the onion mixture and fry until soft and fragrant. Add the turmeric and chilli powder and stir for a further minute.
4. Add half the remaining coconut cream and the peanut butter and bring to a simmer. Simmer for 5 minutes. The sauce will split – this is ok.
5. Turn the heat to low and add the fish sauce, brown sugar and half the lime juice. Taste to see if the sauce needs any more of these three things. This is very dependent on personal taste. Stir in the rest of the coconut cream, taste again and adjust seasoning if need be. Remove from heat.
6. Heat a BBQ grill or a grill plate on the stove to a high heat. Thread the chicken pieces onto metal or soaked bamboo skewers, and place on the grill. Allow to cook without moving or turning for about 3 minutes. Turn and cook for a further 2 minutes on the second side. You should have lovely char marks on the chicken.
7. Remove to a plate and rest under foil. When it is time to serve, gently heat the sauce. Pour over the skewers and serve.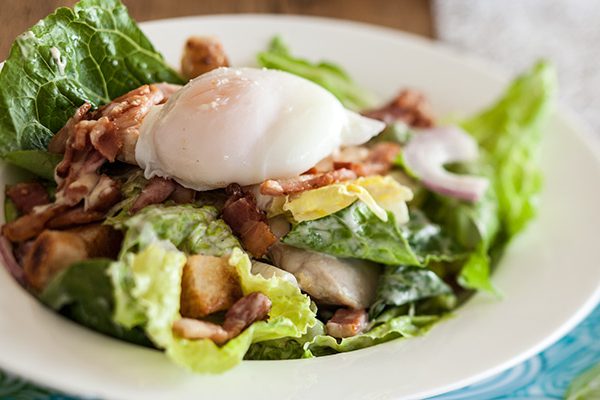 Serves 4 Prep time | 15 minutes Cooking time | 15 minutes • Chicken Caesar Salad | Fresh eggs are important for this classic salad recipe, so that the egg whites stay together with…