Serves 4
Prep time | 5 minutes
Cooking time | 20-25 minutes
Ingredients
• 1 litre (4 cups) good quality liquid chicken stock
• ½ teaspoon saffron threads
• 25g unsalted butter
• 1 tablespoon olive oil
• 1 brown onion, finely chopped
• 2 garlic cloves, crushed
• 1 ½ cups Arborio rice
• ½ cup white wine
• ½ cup freshly grated parmesan
• salt and ground black pepper to taste
 Method
1. Combine the stock and saffron in a medium saucepan over high heat. Bring just to the boil. Reduce heat and simmer gently.
2. Heat butter and oil in a large non stick fry pan over medium heat. Add the onion and garlic and cook, stirring, for 5 minutes or until soft and translucent.
3. Add rice and stir for 1 minute or until grains appear slightly translucent. Add wine and cook, stirring constantly, until liquid is completely absorbed.
4. Add a ladleful (about 1/2 cup) of hot stock. Stir very gently, careful not to break the grains of rice.
5. Continue to add the stock, a ladleful at a time, stirring constantly and allowing the liquid to be absorbed before adding the next ladleful. Cook for 20 minutes or until the rice is tender yet firm to the bite, and the risotto is creamy.
6. Remove from heat. Stir in grated parmesan.
7. Taste and season with salt and pepper.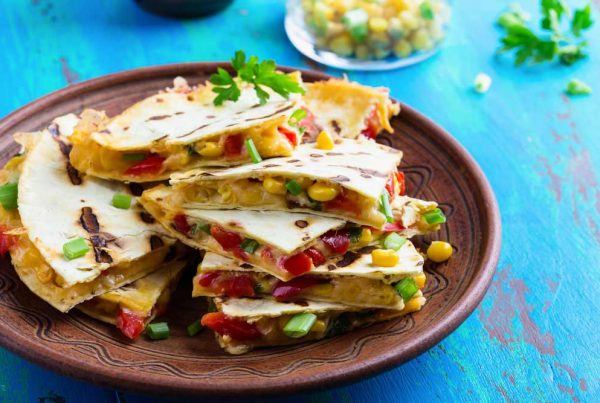 Serves 4 Prep time | 10 minutes Cooking time | 10 minutes • Corn & Capsicum Quesadillas | This is a very quick, easy, inexpensive and delicious mid-week meal. (more…)