Serves 10-12
Prep time | 40 minutes
Cooking time | 35 minutes
This is a really decadent way to use the abundance of pears about in August. If the pears are not ripe and soft, place them on a tray in the oven with the tart shell for about 5 minutes to ensure they'll cook through.
Ingredients | pastry
• 320 g plain flour
• 60 g cocoa
• 160 g caster sugar
• pinch of salt
• 160g cold butter, cubed
• 2 eggs
filling
• 270g dark chocolate melts
• 60g butter, diced
• 1 ¼ cups thickened cream
• 4 eggs, lightly beaten
• 2 ripe pears – Packham or Beurre Bosc are good
 Method
Pastry
1. Preheat oven to 180°C
2. Place flour, cocoa, sugar, salt and butter in food processor and process to a fine crumb. Add eggs and process until dough just starts to come together. Turn onto floured surface and knead until just smooth. Rest in cling wrap in fridge for 10 minutes.
3. Roll out pastry to about 3mm between sheets of Glad bake. Grease a flan tin and line with the pastry. Rest in fridge for 15 minutes. Line with Glad bake and fill with pastry weights. Bake for 10 minutes, then remove weights and bake further 10 minutes. Chill.
Filling
1. Reduce oven to 160°C
2. Place chocolate and butter in a bowl.
3. Place cream in a pot and bring to the boil. Alternatively, use the microwave. Pour the cream over the chocolate and stir until smooth. Allow to cool slightly and stir in the eggs.
4. Peel the pears and cut into quarters. Cut down the centre part of the quarters to remove the core and leave a flat surface. Place the pears rounded side up around the outside of the tart case.
5. Pour the chocolate mixture carefully into pastry shell and bake for 25 minutes. Refrigerate until completely chilled and serve with some pieces of fresh pear and cream, or vanilla ice cream.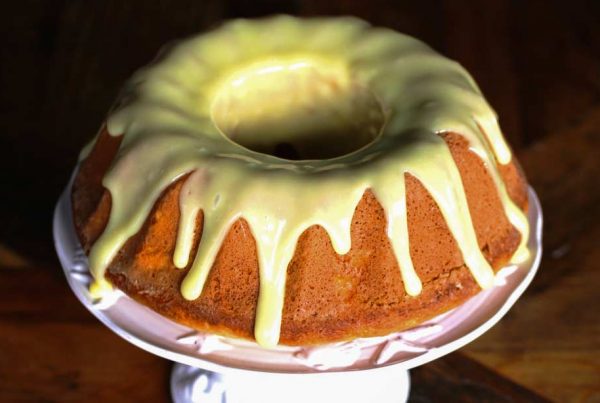 Serves 10 Prep time | 10 minutes Cooking time | 40 minutes • Apricot Sour Cream Cake | I like to make this in a bundt tin as it looks so pretty. If you cook…